Patricia is currently pursuing her PhD programme in Molecular Life Sciences at Ecole Polytechnique Fédérale de Lausanne. She found her programme and enrolled with the help of Studyportals. We asked Patricia about her experience of searching and applying to a university abroad.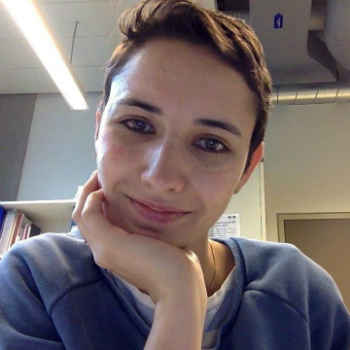 Tell us a bit about yourself. What is your name? How old are you? Where are you from?
My name is Patricia Renck Nunes, I am 24-year-old and I come from Brazil.
Where are you studying now and what programme are you enrolled in? What degree and how long is your programme?
I study at EPFL (Ecole Polytechnique Fédérale de Lausanne), in Switzerland. I am doing a PhD in Molecular Life Sciences which will last 4 years.
Why did you want to study abroad?
I always wanted to study abroad! It is such a nice experience! I wanted to know new people, discover new places, have lots of fun, study in a top university and to get out of my comfort zone.
What were your main priorities when choosing your university and your programme (e.g. academics, accommodation, university services & facilities, personal & professional development, city & culture, cost & funding, practicalities, social life)?
First academics, then quality of life in the city where the university is located, then the options of trips and the cultural medium around the university.
Was this your first study choice? What other universities did you consider? What was the main reason of your final choice?
Yes, it was my first choice and I did not apply anywhere else.
Did you know from the start that you wanted to study in that particular country and city? Why did you choose for this particular location?
I knew I wanted to study in Switzerland because of the quality of life, the environment, the opportunities to learn how to ski and the mountains, where you can always go hiking over week-ends to relax.
Did you take a language test (e.g. TOEFL, IELTS) when applying for the programme? If yes, which one did you choose, why and how was your experience with it?
No, EPFL does not require a language test.
What would be your advice for students from your country that consider to study abroad?
Be ready for some adventure! Switzerland is an awesome country, but also be ready to work a lot: universities here are very demanding and you need to be ready to cope with the pressure. Also, be sure you want (and you know how to) live abroad, away from your old friends and out of your comfort zone.
How did you finance your stay abroad and what financial advice would you give to future students?
I received a scholarship to study abroad. Unless your family is rich, be sure to apply to all grants available in Switzerland before coming. All PhD students at EPFL are paid by the university or they have their own grants. Switzerland is an expensive country, so you better have some income to pay for your living.
Why would you (not) recommend this particular city / university? How would you rate your experience on a scale from zero to ten (0 – It was a total disaster, 10 – I had the time of my life)?
Lausanne and EPFL are great! There are many nice things going on most of the time. If the city is too calm for you, you can always go skiing, hiking, or take a train to visit another country. The only thing that bothers me is that supermarkets always close at 7 PM.
Is there anything that you would do differently if you could do it over again?
Not at all.
What was the biggest surprise in your study abroad adventure?
How friendly exchange students are! I had a great time and made some very nice friends among them! Just be prepared to miss them, because some will leave after a semester or two.
Were you inspired by the story of Patricia?