Chintan is currently pursuing his PhD in Management at LUISS Guido Carli University, Italy. He found and enrolled to his studies via Studyportals. We asked Chintan about his experience of searching and applying to the university abroad.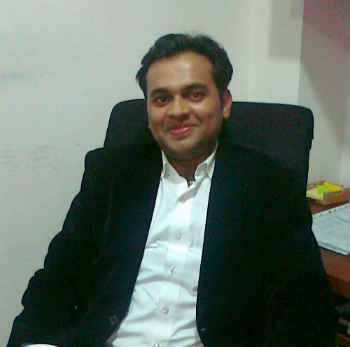 Hi, I am Chintan Kella from Ahmedabad, India, now living in Rome, Italy. I am 31 years old and pursuing my PhD / Dottorate in Management at LUISS, Italy. My programme is a 4-year duration programme.
In 2013, I was accepted and enrolled in the PhD programme at GTU. Though they are trying hard and making some changes, the PhDs in India are way behind compared to the rest of the world. I have an MBA with specialization in HR and B.Engineering in Computer Science from India and I have a work experience of more than 7 years. I was pretty clear that this time I did not want to study in any university in India. I was also clear that I did not want to apply initially to American or British universities. Hence, I was looking for programmes and research projects in Canadian and European universities.
My core area of interest is Organization, Innovation and Entrepreneurship, and after basic research it was pretty evident that European universities are way ahead in the field of Organization as well as related theories and innovation. Thus, I was able to see the light at the end of the tunnel. I came across StudyPortals by chance but then, it was the only portal I needed to refer to, in order to apply for any university. The information was very well presented and the search feature works very well. I started using StudyPortals from June 2013 as my first application submission deadline (CBS) was on 22nd October 2013.
I created a spreadsheet with the name of the programme, key features of the programme, application deadline, fees if any, minimum requirements, country of the university and some other fields, based on the information I got from StudyPortals. The one thing missing is, sometimes, when the button of university website doesn't actually take you there. Also, sometimes, not all universities are listed, which I do understand, but I wish all the universities would understand the importance of being present on this portal and rather push the information, making it mandatory for their marketing / outreach team, to publish on Studyportals.
The factors that played key roles in my decision were the funding they were providing, scholarship, the team of faculty and their current and past publications and research work. These were non-negotiable fields for me. Once I short-listed these universities, the finalists I would consider were selected based on the university's ranking, the city and country in which it was present and current PhD students' testimonials. The programmes had to be fully funded and a sustenance scholarship had to be provided for the programme I was looking for.
Based on all these and because the number of positions are very limited in a PhD programme, I had applied to multiple universities. LUISS was among my top 3 choices, simply because the area of Organization, Innovation and Entrepreneurship is one of the best programmes at LUISS. I had also applied to Copenhagen Business School and Rotterdam Business School, as they have equally strong programmes.
I was short-listed in CBS, but chose LUISS because it is not a very big university, but the faculty team is really dedicated and working hard in order to help the institution grow. Also, it gives me space to move up, instead of starting at top and then being stuck there. That has always been my approach in selecting my university during my MBA and also for my corporate jobs. I was not sure of ever moving to Italy, but once I had my first interview with LUISS, then I was convinced about the idea of moving to Rome.
The climate, the social structure and the social proximity to India in comparison to other European universities were big factors in making my final decision for LUISS. I had my old score of TOEFL and GMAT and I did not have to take any other language test.
For anyone who wants and plans to study abroad, there is only one formula they should consider. Sheer dedication and perseverance. The admissions and application deadlines are very different than in India, at least for PhD programmes. Hence, you should plan your timings accordingly.
Also, if this degree is really important to you for your career advancement, then check out all the options before deciding. Do not sell yourself short. Also, I would strongly advice every student in India to at least spend some time abroad. The best situation would be as a student. The whole experience, though overwhelming, also changes the way you function and see everything in life.
Also, please do not be scared of studying abroad. I did have a big phobia / wrong notion of being able to live abroad, but honestly, it is much easier than initially expected. Things are more organized and the quality of life is much better, making basic things and everyday living way easier.
My education is entirely financed by the university, including my living costs. Those who have to pay out of your pocket, should plan in advance and apply for various scholarships. Do not underestimate yourself and do not believe it may not work out until you actually receive a rejection.
And even if you do receive a rejection from one university, have a plan B, C and D and do try next year again. At the same time, if you are ready to pay a decent amount of money, then do not compromise on the ranking and quality of university and the country.
I would recommend LUISS and Rome only to those who are ready and willing to embrace it totally. Language is a big problem and if you still want to continue living they way you did before, then living here can be tough. Also, what is the point of moving to a new place if you still want to do things the old way?
I would rate my experience an 8, because if I had waited for another year, I could have gotten to my number 1 university on list. Otherwise, this is one of the best decisions I have made in my life, and I actually feel proud about myself.The administrative team is super helpful, the professors come from reputed universities and the whole atmosphere is very vibrant and full of enthusiasm.
If I could do it again, I wish I had come across this portal earlier, where all the information is so easily collected and sorted and presented the way you want it. I would also have liked to start a year earlier. But as they say, everything has a right time and place to present itself. Overall,I am happy with my efforts and the outcome.
As this was my first time abroad and knowing that I was not comfortable with changes my biggest surprise was that I found it super easy from the moment I boarded my flight to landing here, and while arranging my stay. Also, there exists a whole different world out there, outside your home country, where some things are way easier than you can even think. The level of technology and abundance of resources surprises me every day.
So, to conclude, just because you don't know about something doesn't mean it's non-existent. Look for what you want and Studyportals is the best place to help you find what is out there.
Were you inspired by the story of Chintan?