Aboubakar is currently pursuing his Erasmus Mundus Doctorate programme "Agricultural Transformation by Innovation (AgTraIn)" between Wageningen University (The Netherlands) and Montpellier SupAgro (France). He found the programme and enrolled via StudyPortals. We asked Aboubakar about his experience of searching and applying to a university abroad.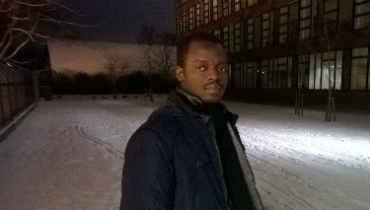 Tell us a bit about yourself. What is your name? How old are you? Where are you from?
I am Aboubakar, 27 old, from Cameroon.
Where are you studying now? What university and programme are you enrolled in? What degree are you pursuing and how long is your programme?
I am doing a joint PhD programme between Montpellier SupAgro (France) and Wageningen University and Research Centre (The Netherlands).
Why did you want to study abroad?
I first wanted to have an international experience after my graduation in 2012 at the University of Agriculture of Cameroon. I was also looking for places to advance my knowledge in Agriculture and Rural Development mainly in EU countries.
What were your main priorities when choosing your university and your programme (e.g. academics, accommodation, university services & facilities, personal & professional development, city & culture, cost & funding, practicalities, social life)?
Academics, professional development, cost and funding and finally social life.
Was it your first study choice? What other universities did you consider? What was the main reason for your final choice?
My first choice for the Master's study was the University of Hohenheim (in Germany). I got admitted and was on a waiting list for the scholarship, so I directly applied at Montpellier to the similar programme and I was also admitted and at the same got the scholarship from the French government.
Did you already know from the start that you wanted to study in that particular country and city? Why did you choose for this particular location?
For my PhD I did not know I was going to study in Wageningen University. It is the topic of my research that is built in close partnership between the University of Wageningen, University of Copenhagen and Montpellier Supagro (see question 2). But I am very happy to have a shared experience between these European institutions.
Did you take a language test (e.g. TOEFL, IELTS) when applying for the programme? If yes, which one did you choose, why and how was your experience with it?
No language test was needed. My Master's in Cameroon was both in French and English, so I did not need to take the test.
What would be your advice for students from your country that consider to study abroad?
The first thing is to think about the future, after the study (either academic, research or enterprise).
How did you finance your stay abroad and what financial advice would you give to future students?
Through scholarships - one from the French government and one from the European Union (Erasmus Mundus).
Why would you (not) recommend this particular city / university? How would you rate your experience on a scale from zero to ten (0 – It was a total disaster, 10 – I had the time of my life)?
No idea.
What was the biggest surprise in your study abroad adventure?
My biggest surprise was to re-adapt from the Dutch culture to the French one.
Were you inspired by Aboubakar's story?