Ivana is currently pursuing her doctoral studies Cultures in Contact in the Mediterranean at the Autonomous University of Barcelona in Catalonia (Spain). She found the programme and enrolled via Studyportals. We asked Ivana to share her story about her experience of searching and applying to a university abroad.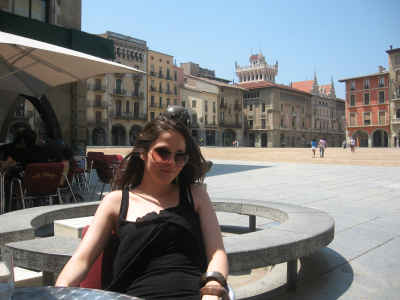 My name is Ivana Arsic, I am 27 years old and I come from Belgrade (Serbia). I graduated in my hometown a Bachelor's and Master's degree at the Department of Classical Languages at the Faculty of Philosophy, the oldest in the University of Belgrade.
Currently, I am enrolled in the second year of doctoral studies at the Autonomous University of Barcelona in Catalonia (Spain) at the department Cultures in Contact in the Mediterranean.
The duration of this Ph.D. programme is three years and, after defending doctoral thesis, every Ph.D. student gets a title of Doctor. This Ph.D. degree is regulated by Royal Decree (Real Decreto in Spanish) and it is granted by the University on behalf of the King.
I always wished to study abroad because I love to travel and experience different cultures, history, cuisines, etc. What's more, I saw the chance to enhance the value of my degree and employment opportunities. Additionally, in my opinion, studying abroad can help you in expanding your worldview toward other nations and cultures and allows you to expand your mind and grow as a person as well.
I wanted to study in Barcelona because of my fascination for Catalan culture, tradition, its remarkable architecture and multiculturalism. In my opinion, Barcelona is one of the most charming European destinations. Furthermore, this town is ranked as one of the best student cities in Europe, thanks to the plethora of prestigious universities, galleries and museum, as well as its beautiful city-side beaches and exquisite night-life.That's why Barcelona is a very attractive city for prospective students.
Finally, in making the decision for a university, my main priorities definitely were academics. Therefore, I chose this university especially because of its area of research. What's more, my priorities were also costs, which are, in my opinion, one of the biggest concern of most students who are planning to study abroad. Therefore, the fact that this university is affordable in relation with price-quality makes this decision easier.
On the other hand, Barcelona isn't the cheapest city in the world and also Spanish government cut down help for students a few years ago. However, on university websites you can find many scholarships, and recently I got one which helped me to finance my stay abroad. Furthermore, Ph. D. faculty fees at this university are very affordable.
To begin with, I didn't know about the Autonomous University before I have seen it on Studyportals. I found this university among others, when I registered on Studyportals, more specifically, to the part called phdportal.com. Every day I received on my e-mail information about new Ph.D. programmes.
Secondly, I reduced my choices to three universities in Spain. And, thirdly, when I realised that I can perform a thesis in English and that I am satisfied with the specific lines of research, the affordable tuition fees and the wonderful correspondence with the mentor, I chose The Autonomous University in Barcelona and I never regretted it since.
On the other hand, if I could do something differently in the application process, I will definitely pay more attentions to deadlines, because that's crucial and one mistake can make you miss the whole academic year.
Besides the Autonomous University, I considered two other universities: The University Pompeu Fabra and the University of Barcelona. Firstly, at the University Pompeu Fabra I didn't find a department related to my area of academic interests. Secondly, at The University of Barcelona I had difficulties with the paperwork related to my Bachelor and MA diploma, because I am coming from a non-EU country.
On the other hand, the Autonomous University had a study group with precise research lines which I wished to study. Additionally, the Autonomous University has a great faculty staff and professors which are more than happy to help you with the thesis, academic research or give important information about new calls for science papers, scientific conferences and scholarships.
That's why I chose this university. Additionally, before my application for Ph.D. studies in Barcelona I took the TOEFL language test. I prepared this test for several months and I found it quite helpful, not only because it helps you to apply to a foreign university, but also because the better your score, the more opportunities you will have in a wide range of institutions.
The biggest advice that I would like to give prospective students from my country who consider studying aboard is to be determent and to set specific academic goals. Secondly, to step out of their comfort zone and befriend the locals, get to know their traditions, culture and learn their language. Consequently, students will be surprised by the hospitality of the locals, especially in Spain. Finally, they should seek information about their country's embassies and consulates, if anything bad happen.
I would definitely recommend studying in Barcelona and the Autonomous University to foreign students, as the university has a great international profile. University colleges welcome new students with open arms, no matter where they come from. Additionally, this cosmopolitan city known for its Gaudi architecture and modernism, located at the Mediterranean Sea is one of the most beautiful European towns.
On the other hand, if you choose to live and study in Barcelona, you should take care of your belongings, especially in metro, because there's a lot of pick-pockets. Also, if you are planning to study in this specific university, you have to know that it is located approximately 20km from the city and you have to go there by train. Overall, Barcelona is a great city and the Autonomous University is an outstanding institution that I recommend to all prospective students. I rate it with the highest mark.
Were you inspired by Ivana's story?