Delia is currently pursuing her MSc in Management with Human Resources at Bournemouth University. She found the study programme and enrolled via StudyPortals. We asked Delia about her experience of searching and applying to a university abroad.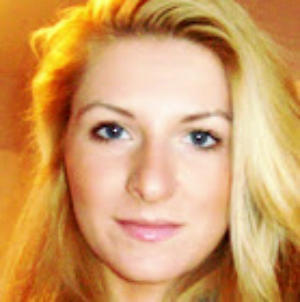 About you
Tell us a bit about yourself. What is your name? How old are you? Where are you from?
My name is Delia Violeta Cislariu, I am 24 and I am from Romania.
Where are you studying now? What university and programme are you currently attending? What degree are you pursuing and how long is your programme?
I am currently study in Bournemouth, Dorset, UK. I am enrolled at Bournemouth University and the programme is called MSc in Management with Human Resources. It is a taught Master's degree and it takes about 12 months.
Why did you want to study abroad?
I decided that me and my boyfriend did not have many opportunities in our own country, financially speaking, and we started to look for an English-speaking country to move in and start a new life. When I realized that I was not going to have many chances to get a job in my field with the degree I earned in my home university, I thought that I could continue my studies and get a qualification there. I had some experience of studying abroad, as I studied one semester in Germany during my last year of university, where I found that the education system is not very different from the one back home, so I felt prepared enough.
Deciding for a university
What were your main priorities when choosing your university and your programme (e.g. academics, accommodation, university services & facilities, personal & professional development, city & culture, cost & funding, practicalities, social life)?
After location, it was definitely cost & funding.
Was it your first study choice? What other universities did you consider? What was the main reason of your final choice?
HR was my first study choice, but there are several programmes around this subject, like International Human Resource Management, Strategic Human Resource Management, Human Resource and Knowledge Management etc.
I also applied to Southampton University, Coventry University, Bath University, and to several other universities in London, because I did not know in which city we were going to live in and I wanted to match my university city with the one in which we would have found jobs.
Did you know from the start that you wanted to study in that particular country and city? Why did you choose for this particular location?
I knew that UK was a good choice from me and my boyfriend, but other than that it was only destiny that chose for us.
Did you take a language test (e.g. TOEFL, IELTS) when applying for the programme? If yes, which one did you choose, why and how was your experience with it?
There were some language requirements, so I took IELTS. Actually, I had to take it twice, because I needed a higher score for the writing test, but considering the fact that I prepared for it home and I started with a very basic level of writing, I could say that I found the test alright.
Book an IELTS test in your country!
Recommendations
What would be your advice for students from your country that consider to study abroad?
I truly believe that if there are people who dream about studying abroad, no matter the reason, they should definitely do it! Because, if they plan it carefully and think about all the changes that studying abroad involves, they accept these changes and work towards them, nothing is impossible.
How did you finance your stay abroad and what financial advice would you give to future students?
It was quite difficult for me to finance my stay abroad, as I actually had to take a gap year in order to work and put money together, which was very difficult and involved a lot of conflicting feelings. I always thought that after finishing my Bachelor's degree I will finally be able to start working towards my professional career in my field, and I did start an Internship as a Research Assistant in Psychology in my home country, but I had to take the difficult decision to quit when the opportunity to work abroad arose. It just felt that after 15 years of hard studying, many extracurricular activities, volunteering, various part-time jobs, I was going to waste one year of my life, by doing nothing than serve Coffee and Tea.
I believe that for me, financing my studies abroad was very challenging, but an international qualification is worthy from my point of view and one could not imagine how strong is the feeling of succeeding after struggling to finance your own studies. You invest in yourself and, as probably all of us know, this is the only thing that cannot be taken from you! So, good luck! Search for information, find support and funding resources and do it, if you really want it!
Why would you (not) recommend this particular city / university? How would you rate your experience on a scale from zero to ten (0 – It was a total disaster, 10 – I had the time of my life)?
Of course, this depends from person to person, but I would rate my own experience with 10 and that should tell it all!
Is there anything that you would do differently if you could do it over again?
This is a very tough question, because even if I wish I would not feel the way I felt during my gap year, I know myself and we all know how difficult it is to control our emotional conflicts. I am glad that I had my boyfriend's support and encouragement and that I finally succeeded to work towards my goal. I just hope that this Master's is going to bring me what I have been fighting for all these years!
What was the biggest surprise in your study abroad adventure?
I thought that if you have a part-time job you can manage to fund your studies, but even if you chose to pay in installments, this is almost impossible.
Were you inspired by Delia's story?
Find 572 Master's programmes in Human Resource Management here!