Zulqarnain will be greeting international students at their new university, Chalmers University of Technology, by handing out enrolment gifts. We asked Zulqarnain to introduce himself.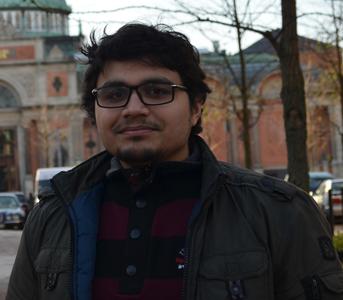 My name is Muhammad Zulqarnain Khalid and I am from Pakistan. I completed my Bachelor's in Mechatronics Engineering from NUST, Pakistan. After completing my degree I followed my passion of marketing and management and joined a firm which experts in Internet marketing, event management, social media handling and corporate PR, having both local and international clients. After spending two years at the job, I decided to combine my technical background with managerial skills and found a perfect match in the form of a Master's programme in Production Engineering at Chalmers University of Technology, Sweden.
Finding a study programme that suits my interest was not the simple task for me because I wanted to strictly follow my aim. Initially I "Googled" a lot to find something useful for me but I was not able to organize my search process. As my focus for the higher studies was Europe and luckily later I was able to find the right forum in the form of StudyPortals to focus my search. This tool gave me a great opportunity to compare different programmes' contents, tuition fees and most importantly the scholarships. I am grateful to StudyPortals for making it easy for me to achieve my desired target and pave my path to learn in a multi-cultural environment.
Looking forward to welcoming you at Chalmers University of Technology
Zulqarnain
So, if you are embracing an exciting journey to study abroad at Chalmers University of Technology, and you found your study programme through StudyPortals, we want to give you a gift to celebrate your enrolment! At StudyPortals we care about students, and our goal is to help you integrate and feel less as a stranger when you arrive at your new university! For this our Santa Claus is there to help you!
So go ahead, fill out the form at through the enrolment gift page and we will direct you to our Santa Claus at Chalmers University of Technology to get your gift.